Paying for solar leads is a common way installers jumpstart their business. Unfortunately, solar companies who buy 3rd-party leads sacrifice more than they know, hurting long-term growth and profitability. This article describes the hidden downsides of buying solar leads, and what you should do instead.
---
Wait, What's Wrong With Buying Solar Leads?
Paying for leads is a common way to jumpstart a solar business. It's quick. It takes low overhead. And you can get some decent customers from it.
However, many installers have experienced some downsides when buying solar leads. Can you empathize with any of the following?
1. No Brand Recognition Prior to Call
When you call your purchased "lead," they usually have
no idea who you are,
what your company does, and
why you're calling
It's a really rocky way to start a conversation, and often causes people to hang up on you or say "I've already got three quotes from other companies."
It's very challenging to establish your credentials and why your company is different if they have no former impression of you and are just hearing about you for the first time on the phone.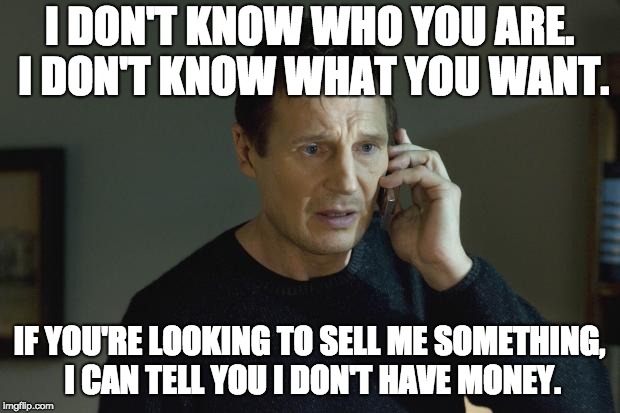 2. Inconsistent Quality
As shared at one of SPI's education sessions, purchased lead quality seems to be getting worse. Oftentimes, your "lead's" phone number is disconnected or their email address is invalid.
Even if you get poor quality leads refunded, this wastes the time and morale of your team.
3. No Control Over Advertising Message
An ad saying "Free solar installations in your neighborhood!" will definitely draw in some people, but they're not going to be happy when they find out they've been duped.
Some providers have better messaging than others, but you can be sure it's not catered to your situation.
4. No Knowledge Of Lead Source
Is there a particular source that's converting like hotcakes for you? Good luck finding that out when relying on someone else's black box marketing.
Rather than building your proprietary customer targeting knowledge, you're paying someone else to develop their asset.
5/6. Non-Exclusive & Lower Margin
As alluded to above, most purchased leads are non-exclusive. Price is the prospect's easiest differentiator, so reputable providers (which hopefully you are!) face an uphill battle explaining the value of your product and your service.
Not only does this create a confusing situation for homeowners, it also leads to lower margins and unhealthy competition among installers. Negative-margin, low-quality installers drive everyone (including themselves) out of business in this model, and you're facilitating them by paying into it.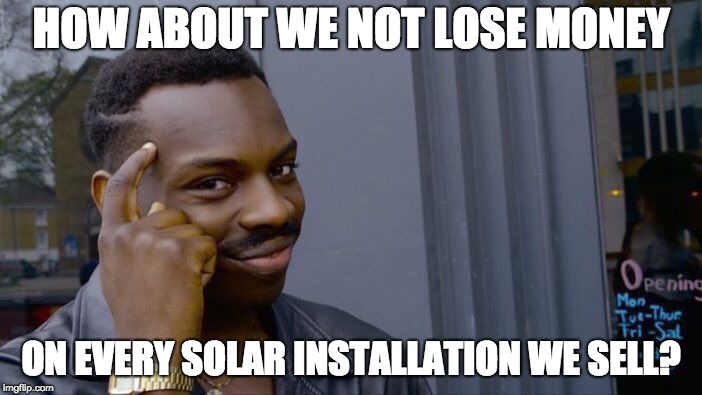 7. Lower Conversions
Since potential customers don't know your brand from the next, you become a commodity to them. This makes them shop around, completely unattached to working with you.
How frustrating is it to spend hours educating a prospect only to lose the deal to someone undercutting you by $0.10/W?
Buying Solar Leads Is More Expensive In The Long Run
Combining all the above, 3rd-party leads end up being quite expensive. Your business becomes built around
Disloyal
Low-quality
Uncontrolled
Untracked
Non-exclusive
Low-margin
Low-converting
"leads." You know in your gut there must be a better way out there…
Smart Solar Lead Generation
Naturally, the solution to these challenges is to generate your own leads. But that comes with its own set of issues: It's more work. You don't have the expertise. It requires more overhead.
These are very real and valid concerns that keep many solar installers stuck buying leads. It's easier to fight fires and ignore this hard-to-solve problem.
There's a better option that savvy installers employ: hire a marketing consultant to build your own solar lead generation system.
Here's what one of our clients said about working with us:
Karl Markeset of Solimax
After modifying our campaign (e.g. developing highly effective key words, changing ad types, etc.) he consulted with us regarding spend rates and activated our campaigns. Within about 5 days our website was receiving substantial traffic and several more inquiries/leads about our services began arriving in our mailbox!
We went from getting 1 or 2 leads every 4 weeks to getting close to 2 to 3 leads a week and our elegantly-worded ads started showing up on many pages of several search engines. We are currently closing deals with several of the leads that we acquired through Solariety's improved campaign and we should see revenues increase significantly because of the lead closures!
In addition, Chris provided us with critical feedback on our website design to increase load speed and thereby reach and retain more customers with little time on their hands. His website changes have had very positive impacts on our web presence and he even tied in our Facebook advertising with our current campaigns to further enhance lead generation.
Karl Markeset
Hiring a consultant is the best of both worlds, since you get to
Keep control
Retain exclusivity
Boost conversions
Increase profits
without a lot of work and a large budget on your end.
For a fraction of the cost of a full-time hire, you get an experienced professional who specializes in residential solar marketing build and optimize a powerful, predictable, in-house lead generation system for you.
Given this option, it's hard to imagine many local installers surviving if they rely on purchased leads.
Do you agree?
---
To see how we can help you generate leads in-house, schedule a free Marketing Strategy Session with our residential solar marketing expert. Visit our schedule link or email us at info@solariety.com.